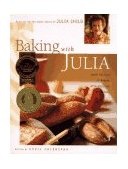 Episode #204
View Video 1
View Video 2
Master baker Danielle Forestier shows Julia how to make the classic French baguette. Using the traditional recipe of flour, water, salt and yeast and terra cotta baking tiles, Danielle demonstrates how this traditional French bread can be made at home.  .
Danielle shows Julia how to make a baguette by hand. They work in her home kitchen in Cambridge Massachusetts, mixing and forming the dough by hand and baking it in Julia's home oven.  Along the way they discuss the 'why's' and 'wherefores' of the process of making the dough and the fermentation of the dough.
Viewing the video, you will see the hand manipulation described and demonstrated.