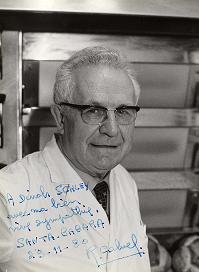 Professor Calvel, the impetus and inspiration for artisan bakers worldwide passed away on 30 August, 2005.
"It is with immense sadness that we let you know of the death of Professor Calvel on the 30th of August, 2005, states the Bulletin of the Society of Friends and Former Students of Prof. Calvel ('Amicale').
The 'Amicale' further states that Raymond Calvel was an apprentice boulanger in the 30's in a boulangerie in Tam. From 1936 to 1978 he was professor of baking at The National Superior School of Milling and Cereal Industries (ENSMIC). Calvel was the author of numerous books on the technology of baking (La Boulangerie Moderne/The Modern Bakery, Le Gout de Pain/The Taste of Bread, Les secrets de la baguette parisienne et du pain français/The Secrets of the Parisian Baguette and French Bread), some of which were translated into various languages, including English. He also published a great number of articles in the bulletin of the Ecole Française de Meunerie (French School of Milling), which is now the magazine: Industries des Céréales (Cereal Industries).
A world traveler, Raymond Calvel was the ambassador of bakery products throughout the world, particularly Japan, always insisting on quality loaves. The 'Amicale' published his autobiography, which traces his unique professional career, 'Une Vie, du Pain et des Miettes' (A Life, Bread and Crumbs). The book contains numerous remarks by his friends and colleagues, his biography, and articles published in the French Milling School bulletin.
--loose translation of obituary published by the Amicale
Professor Calvel also published many technical articles for the French trade magazine Le Boulangerie-Patisserie. These articles have detailed comments on his experiments and experiences with methods of improving the quality of bread while still maintaining efficiency. My collection of these articles (in French) exists at the AIB library in Manhattan, Kansas, where they are available to anyone. By disseminating methods of producing quality loaves, first through Julia Child and later through numerous artisan bakers, Professor Calvel was largely responsible for the artisan bread movement in the United States. The autolyse process was a major contribution of Prof. Calvel to the evolution of quality loaves, as were his methods: "Vite et Bien" (Quick and Good) that maintain flavor and texture characteristics which allowing efficiency. Raymond Calvel was supremely generous with his knowledge, willingly discussing in great detail all and any of his discoveries with bakers, apprentices or masters.
Professor Calvel was buried in his native village in the presence of his immediate family on 3 September, 2005.
Persons wishing to sign the Golden Book expressing their sympathy may do so at: http://www.cannelle.com/guestbook/livre.php/