Partners Danielle Forestier and Rick Kellner have opened the small bakery in a corner of the Alameda Marketplace, where on this particular morning a breeze carried the sour smell of yeast out the shopping center's big glass doors.
The Oakland Tribune (CA)
August 29, 2004
 Susan McDonough, STAFF WRITER (c) 2004 The Oakland Tribune. All rights reserved. Reproduced with the permission of Media NewsGroup, Inc. by NewsBank, Inc.
ALAMEDA -- A woman in the Feel Good Bakery took issue with the size of baker Danielle Forestier's hat.  It's short by chef standards, rising just 3 inches from the top of her head. "Her clothes, on the other hand," said the woman, who seemed to think the hat lacked the grandeur due a maitre boulanger, "are definitely French."
Forestier, who is indeed a master baker by French standards, has opened the small bakery in a corner of the Alameda Marketplace, where on this particular morning a breeze carried the sour smell of yeast out the shopping center's big glass doors.
Forestier smiles wisely when she talks about her white cap. "The French consider bakers the lowest of trades- men," she said, with the confidence of a woman who has earned every inch of her squatty, little cap.
Living in Paris in the early 1970s, she wanted to apprentice under a chef but none would take her. "It was a bit different in those days," she said, while sharing coffee and focaccia at the Marketplace.
Eventually she found her way into a baker's kitchen below her apartment in Paris, where she quietly put her head down and went to work, hoping her diligence would disguise her poor French. She didn't leave the small bakery until well after she had enrolled at the Paris Chambre de Commerce for a two-year course that earned her the title of maitre boulanger. She was the first American woman to earn the prestigious honor.
After six years in Santa Barbara, where she ran the European-style bakery Les Belles Miches, and 25 years as an international consultant for the bakery industry, Forestier is in Alameda, baking the breads and baguettes that earned her a regular spot on the PBS series "Baking with Julia."
The legendary chef was a good friend, said Forestier. Julia Child died Aug. 13 at age 91. They had met through a mutual French friend, and dined together regularly in Santa Barbara, Forestier said.
"I relied a lot on her palate and opinion."  Child told her once to add butter to her puff pastries, she said. "She gave me unsolicited, absolutely on-target advice."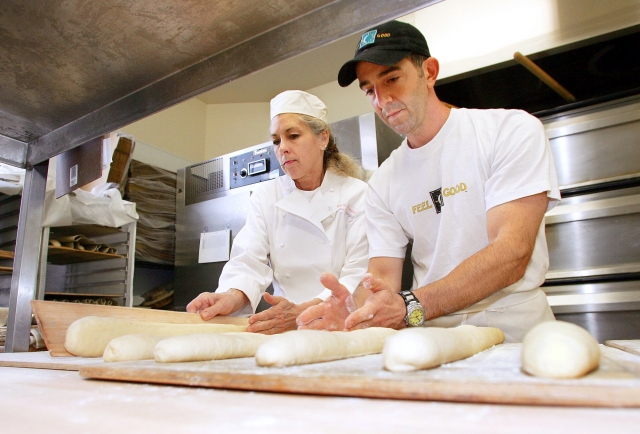 Alongside a new deli and a sushi bar run by a Chinese family, the Feel Good Bakery fills out the Marketplace. Marketplace owner Donna Layburn said she is thrilled to have the bakery in the market she started more than a year ago in a converted Ford dealership. Her vision was to fill the building with a small collection of restaurants and specialty food stores. "I really wanted it to be someplace where people can get great food," said Layburn. Like Forestier and Rick Kellner, a partner in the bakery, she talks about the synergy between her nine tenants, a cheese shop, a coffee roaster and soon a specialty kitchenware store. "You couldn't have asked for anything better," she said.
The deli uses only Feel Good breads, for example, and Forestier uses premium chocolates from Burlingame-based Guittard Chocolate Company and flavored vodkas from Alameda's St. George Spirits in her brownies and pastries.
"We want to start small and concentrate on baking wonderful breads, pastries and pizzas," said Forestier, who calls herself a "dough diva" on her business card.
The product line is young, and the partners are still working 18-hour days to get their bakery on its feet. But already the Feel Good name is popping up on Internet message boards.
The bakery won't serve sandwiches or coffees, the way so many other bakeries now do, said Forestier and her partner Kellner, a New Yorker who grew up with H&H Bagels and Zabar's as steady comforts.
"We want to just be a bakery," Forestier said.